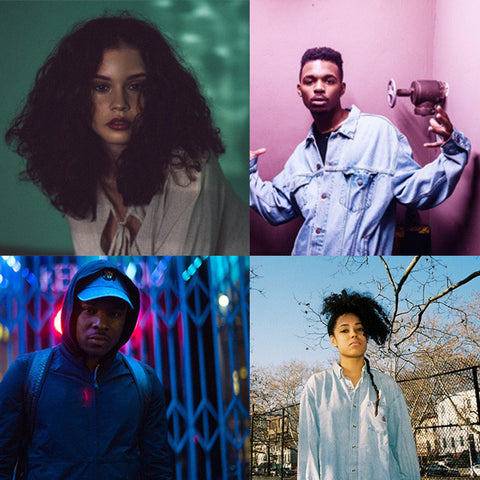 There's nothing more enjoyable than great music, especially great new music. 2016 brought us an array of great music from Frank Ocean's Blonde, to J Cole's 4 Your Eyez only, and it might be safe to say 2016 brought us the best releases since the early 2000s.
2017 is already off to a great start for music, Migos landed a number 1 record in the country with "Bad & Boogie", Kanye and Jay Z have reportedly reunited so maybe we'll get Watch the Throne 2, and a new generation of artists have set themselves up for a breakout year. 
Here are 12 artists we think you should keep an eye out for this year.
1. Jay IDK
Showing no mercy, Jay IDK "Ignorantly Delivery Knowledge" made a lot of noise last year with the release of his project, 
Empty Bank. 
The project filled with lyrical realness and truth about the perception of money. The DMV rapper is not afraid to be vulnerable, telling 
Forbes 
"One thing about rap is, a lot of rappers don't like to be vulnerable. They like to make it seem like they're something that they're not". Keep an eye out for him and catch him on the
 Lil Sunny tour
 this Fall.
2. Marco McKinnis
R&B newcomer, Marco McKinnis is the 17-year old from Virginia who you want to go mainstream off the sake of hearing his track
"My Own"
. A mix of smooth vocals and thoughtful lyrics, Marco has brought back the R&B sound we once fell in love with. Check out his
Soundcloud
for more music. 
3. Amber Mark
Amber Mark quietly appeared on the radar last year with the release of "Space". A tribal alternative R&B track that makes you hit replay. Picked by Zane Lowe as one of his favorite artists of 2016, the singer is gearing up to make more noise in 2017 with the release of her EP 3:33 AM. Check out more music on her
Soundcloud
.

4. Lafayette Stokely
Lafayette Stockily began 2017 with his debut project "Life As We Know It" on New Years day. The lyricist spent 2016 working on his album but got a lot of attention with the release of "Sun Comes Up featuring Jessica Bennett, a personal ode to his family. Check out his
album
and keep an eye out for what's next.  

5. The Skins
The alternative rock band from Brooklyn is a forced to be reckoned with! Fresh off the release of their 2016 EP "Still Sleep" featuring their single
Bury Me
along side D.R.A.M, the band is pushing boundaries in the music industry with their unique style, sound, and attitude. 
6. Roy Woods
In the company of PARTYNEXTDOOR and Drake, 
OVO's Roy Woods made a mark of his own last year. He released two concrete projects "Nocturnal" and "Waking at Dawn" in 2016, both with an extensive new sound of rap. Check out his latest release
Nocturnal
.  
7. Ro James 
Ro James might hands down be the new face of R&B. With a highly successful 2016, having his debut album "ELDORADO" being nominated for a Grammy, touring with Maxwell and Mary J. Blidge, and a number 1 record for his single "Permission", Ro James is not stopping. Listen to
ELDORADO
and be on the lookout for his
XIX tour
this Spring. 

8. Nick Grant
Nick Grant from South Carolina brought his poetic style of rapping mainstream with the release of "The Sing Along". His lyrical ability and focused raps has helped me to grab the attention of Sway, Peter Rosenburg, and many more. Stay tuned for his debut album, Return of the Cool, out January 13th. 

9. Tangina Stone
Tangina Stone reigns from Brooklyn with a soulful majestic vibe. We hear this on her latest release "Ride Off" featuring Crystal Caines. Stay tuned for what's to come from the songstress. 
10. Sabrina Claudio
As much as we want her to be our little secret, that may not be the reality after the release of her 
Confidently Lost EP last summer. The singer is beaming with R&B soulfulness and has set the standard high for what to expect this year from her. 
11. 6LACK
We were first introduced to the Atlanta rapper last year with his debut track "PRBLMS". The track caught heavy attraction after its debut racking up over three million views on Soundcloud. The 23-year old rapper is bound to get you in deep thought with his fluid lyrics and heavy Atlanta production. Check out his debut album
"Free 6LACK"
.
12. Raury
Since the release of his debut album "All We Need" in 2015 and touring with A$AP Rocky, Raury has managed to keep the anticipation high for his music. Last year, he released four Soundcloud bangers, "Butterfly", "Home", "Like A Star", and "NEVERALONE", a taste of what is hopefully a full length project coming this year.